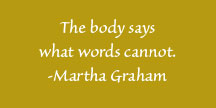 The latest developments in neuroscience confirm that what happens to us psychologically affects us at the deepest physiological levels. When we are agitated, angry, stressed, or depressed, we are experiencing these states physically: either we are in a state of fight or flight, or we feel depleted from the cumulative effects of stress.
Working with breath and relaxation techniques can help bring us to a state of inner calm and balance. In this deepened state of mindful relaxation, we can become more open to the transformative images, memories and wisdom  that may reside in the body.
The body, or soma, is a profound gateway to accessing the unconscious. Attending to images that arise from the subtle or ethereal body, or what Arnold Mindell calls The Dreambody, allows us to listen deeply to our inner reality.
Staying present with what we are feeling in our bodies can often cue us in to understanding when we are feeling anxious, unsafe, or alternately, happy, joyful or excited. The body may also hold powerful memories that have not yet become part of our conscious memory. The latest science on mind-body medicine shows that as we deepen our ability to listen to our body's wisdom, we increase our capacity for living a meaningful, secure and joyous life.